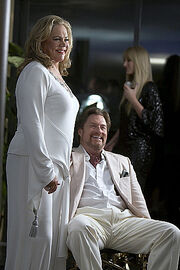 Richard "Dickaay" Collini is the paraplegic sexual deviant husband of Sue Collini. Sue describes him as a "master of the oral arts". He wishes for people to "call me Dickey (pronounced "Dickaay")". He and wife Sue have stated that they have an open sexual relationship, which is why her pursuit of underling Charlie Runkle is something Dickay encourages. Sue indicates that Dickey is a high-priced bidder at auction houses, often bringing back items of a sexual nature. Despite his disability, he appears to be in good spirits.
Ad blocker interference detected!
Wikia is a free-to-use site that makes money from advertising. We have a modified experience for viewers using ad blockers

Wikia is not accessible if you've made further modifications. Remove the custom ad blocker rule(s) and the page will load as expected.